2020 has been a terrible year for most things but an amazing one for newsletters. Newsletters are everywhere now. Many are launched daily. Numerous established writers and journalists have ditched their day jobs to go independent and entrepreneurs are flocking to this new gold rush.
I receive a lot of submissions at InboxReads and I've delved into that data to share some of the trends I've found that can hopefully help others with their products or newsletters.
Overall, this year InboxReads received over 400 submissions, greatly surpassing the number in 2019. The data below focuses on those submissions made this year and uses a mix of reported data and my own analyses.
Email Service Providers
This has been the year of Substack and that's been reflected in the submissions. To find which platform each newsletter uses I looked at the URLs first and scanned their landing page for embedded forms when the URL didn't provide the answer.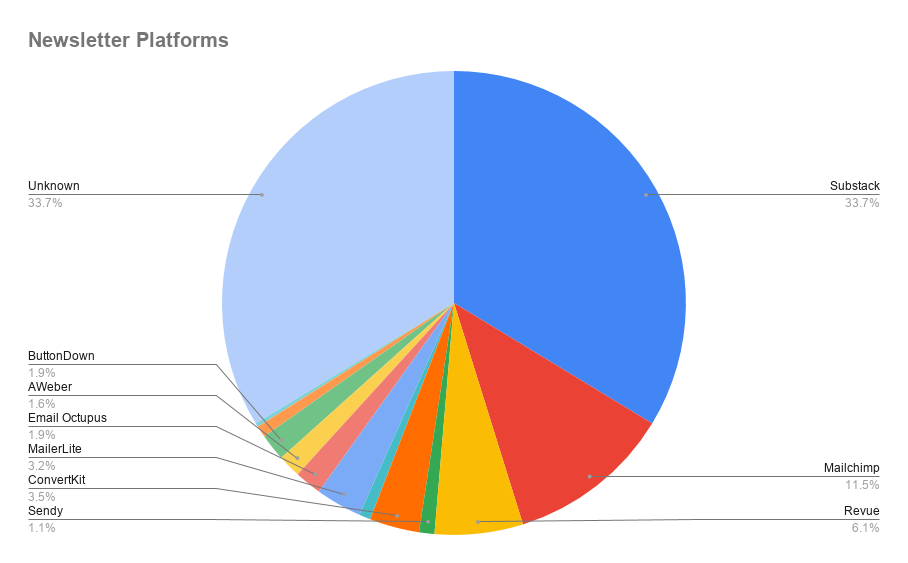 You'll see a large chunk of them were inconclusive but it's pretty clear that Substack has been the dominant ESP this year. Mailchimp continues to be popular and very likely makes up a large portion of the unknown group since it has a lot of integrations with landing page and website builders.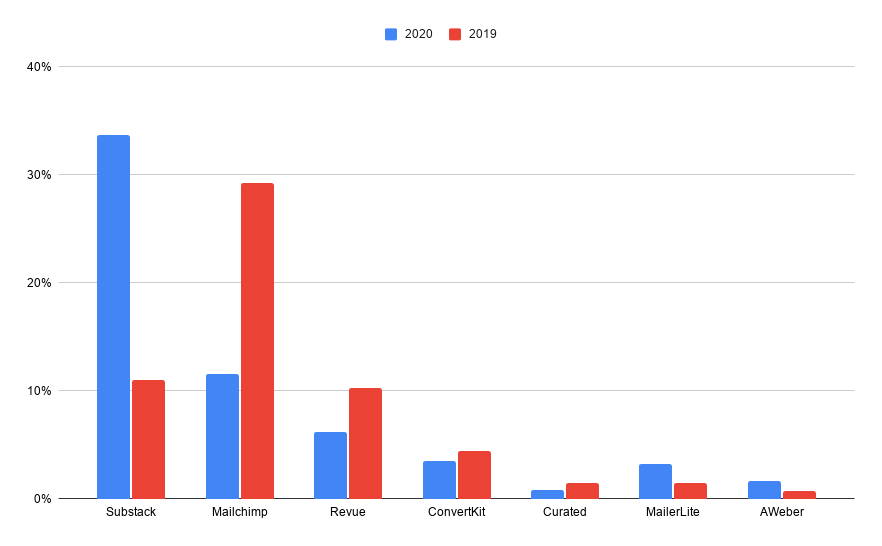 Comparing to 2019, you can see Substack's growth has far outpaced the others going from just 11% of submissions to 34%. Mailchimp has lost the most dropping by more than half to only 11% of submissions now. Revue submissions have decreased as well but the those 3 remain the most popular ESPs. Notably, MailerLite submissions have tripled from just 1% to 3%.
It will be interesting to see how this develops next year and if Substack will maintain it's popularity.
Status
With so many launching newsletters this year it's interesting to look at how many are still active. To determine a newsletter's status, I looked at if their landing pages were still online and also if they released any issues in the past two months for those whose archives are public.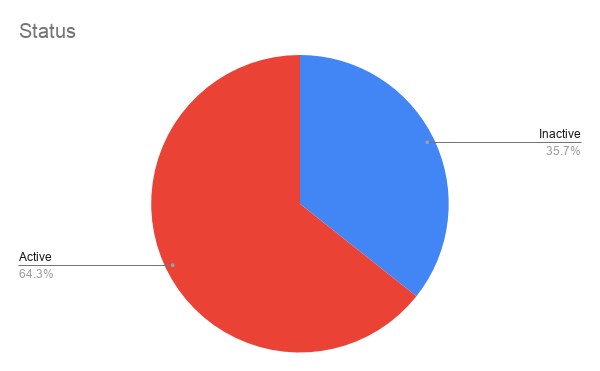 Of the newsletters submitted to InboxReads in 2020, a whopping 35.7% of them are no longer active. There's a lot of newsletters being started but most writers are not sticking with it. It's not necessarily a bad thing to drop a newsletter that isn't getting traction but I wonder how many were hoping for much faster growth than should be expected.
Sending Rates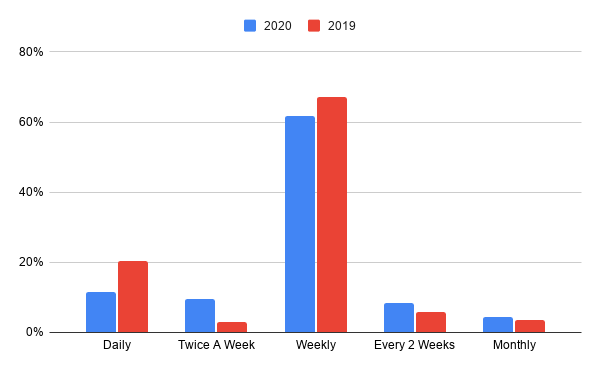 Weekly sending continues to be the most popular rate by far. It's likely the most sustainable for independent writers compared to more frequent rates. Newsletters sent daily have dropped by 50% and monthly newsletters continue to be the least popular.
Free vs Paid
Paid newsletters are growing in popularity but it's not yet reflected in submissions. They only make up 4.2% of submissions but it is a notable increase from the past year when there was only 1 paid newsletter submitted.
Popular Topics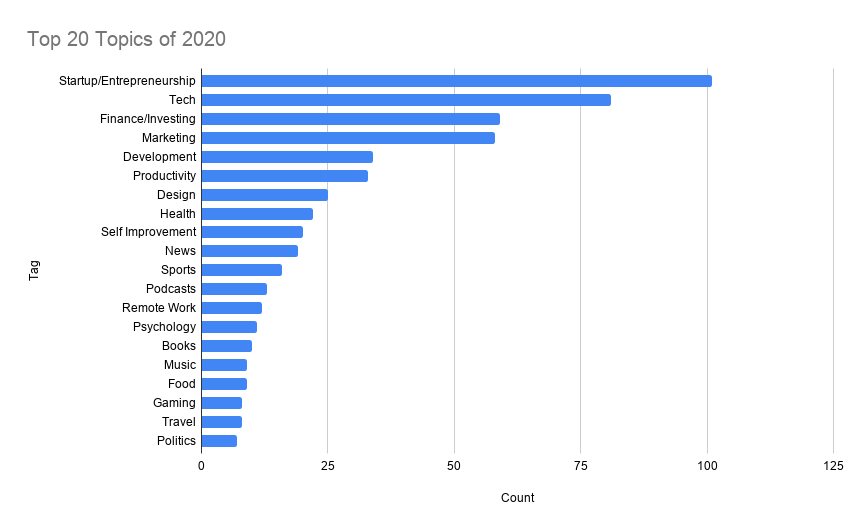 Of all submissions, these were the top 20 categories and topics they self identify as. You'll notice that tech and startup related topics dominate the submissions. The only exception being Finance/Investing newsletters which have exploded in popularity this year. The other top 20 topics are more general and appeal to a wider audience.
This contrasts with the most popular topic pages by traffic on InboxReads.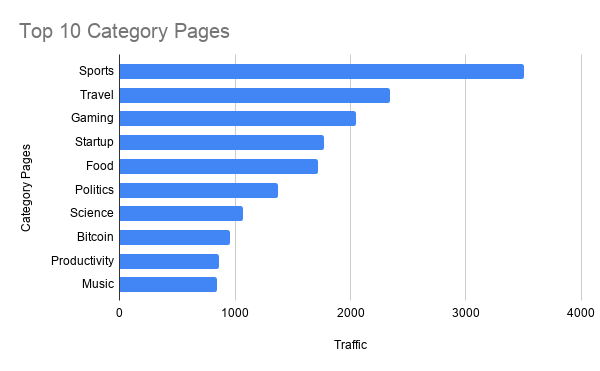 Unlike the submissions, the most popular categories are not dominated by startup or tech-related topics. The more general topics like sports, travel (surprising in 2020), gaming, food, and politics are hugely popular. But newsletter creators seem to not be drawn to these topics. There's still a huge opportunity for more writers to take advantage of this interest and start newsletters serving niches in these topics.
Is it a Bubble?
Who knows. But it's definitely an exciting time to be in the newsletter space. Newsletters have been around for decades and just as with any business, once you find a sustainable space you can create a lasting business.
Just as Substack came in and dominated this year, there will likely be new platforms and services that emerge in the next year and displace others. It's still early and there's time for new tools, trends, and email service providers to establish themselves. May the wave continue in 2021.