Jordan Brown - The Mental Health Update
Authentic Mental Health Stories and Actionable Strategies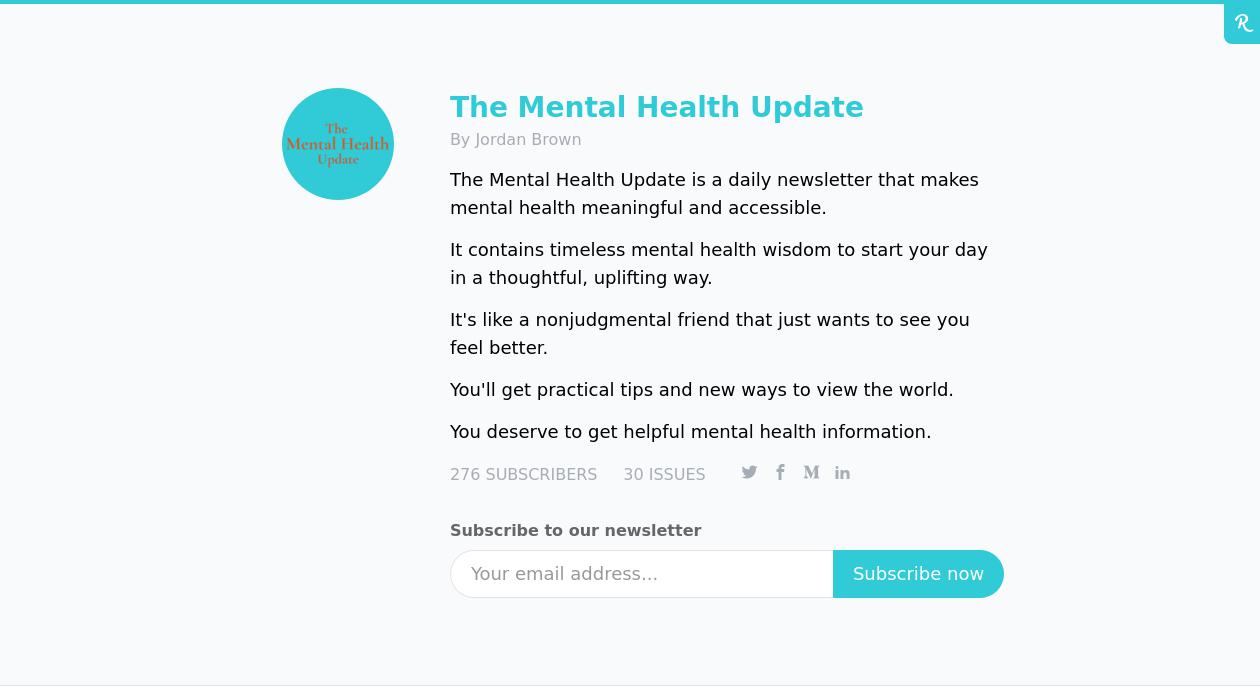 The Mental Health Update is a daily newsletter that makes mental health meaningful and accessible. It contains timeless mental health wisdom to start your day in a thoughtful, uplifting way. It's like a compassionate friend that just wants you to feel better. You'll get practical tips and new ways to view the world. You deserve to get helpful mental health information.
Reviews
Review Submitted
Thank you for leaving a review. It will be approved and visible on the site shortly 🙂
I have lived experience. Jordan speaks (writes) in a way I can hear, relate to and work with. That is NO easy feat sometimes ! I am a social worker who has a passion for language. Jordan is one of the best I have read addressing language in mental health. He tells it like it is - the good and the not so good. No preaching. Yet, people with or without mental illness can understand. Your inbox is sad and empty if his Mental Health Update is NOT in it!!!!
Rusty Jaxx
Jordan's mental health update is a welcomed daily email in my inbox. It often provides me with a chance to break from the mundane tasks of working in an office and take a moment for myself to hear his thoughtful and well put together thoughts on many aspects of mental health. As someone who works in the psychology field it's often a nice reminder and way of grounding myself to all the great work that's going on and the journey we all must take in supporting mental health. Thank you Jordan!
Rob J
Much needed writing from Jordan. Ive learned to put myself into a time out rather than hit the other person who is seemingly or IS insane, insulting or insensitive. It gives ME time to remove, rehydrate and enter a retrospective perhaps a response. LOVE YOUR WRITING AND SUBJUCT MATTER....
Anna Smith
very inspiring..i really appreciate yr articles..it makes me understand myself more clearly..
sacha pakeery
I wish i could give more than 5 stars! Since i started reading Jordan's daily mails and tweets, i just feel happy and all i can say is that he is a blessing to the humanity. Thank you Jordan.
Shakira Niyonkuru
Daily encouragement from someone who has "been there" when it comes to mental health struggles. Comes in the form of stories and simple, actionable tips for reframing and working with - and through - your issues. One of the few newsletters that has survived my ruthless inbox decluttering sprees. Highly recommended!
Kelila Johnson
Jordan seems to read my mind, or to know what I need each day for inspiration and for good mental health information.
Mary
Jordan is a great advocate for mental health and his articles are inspiring and very helpful
Sandy Pace