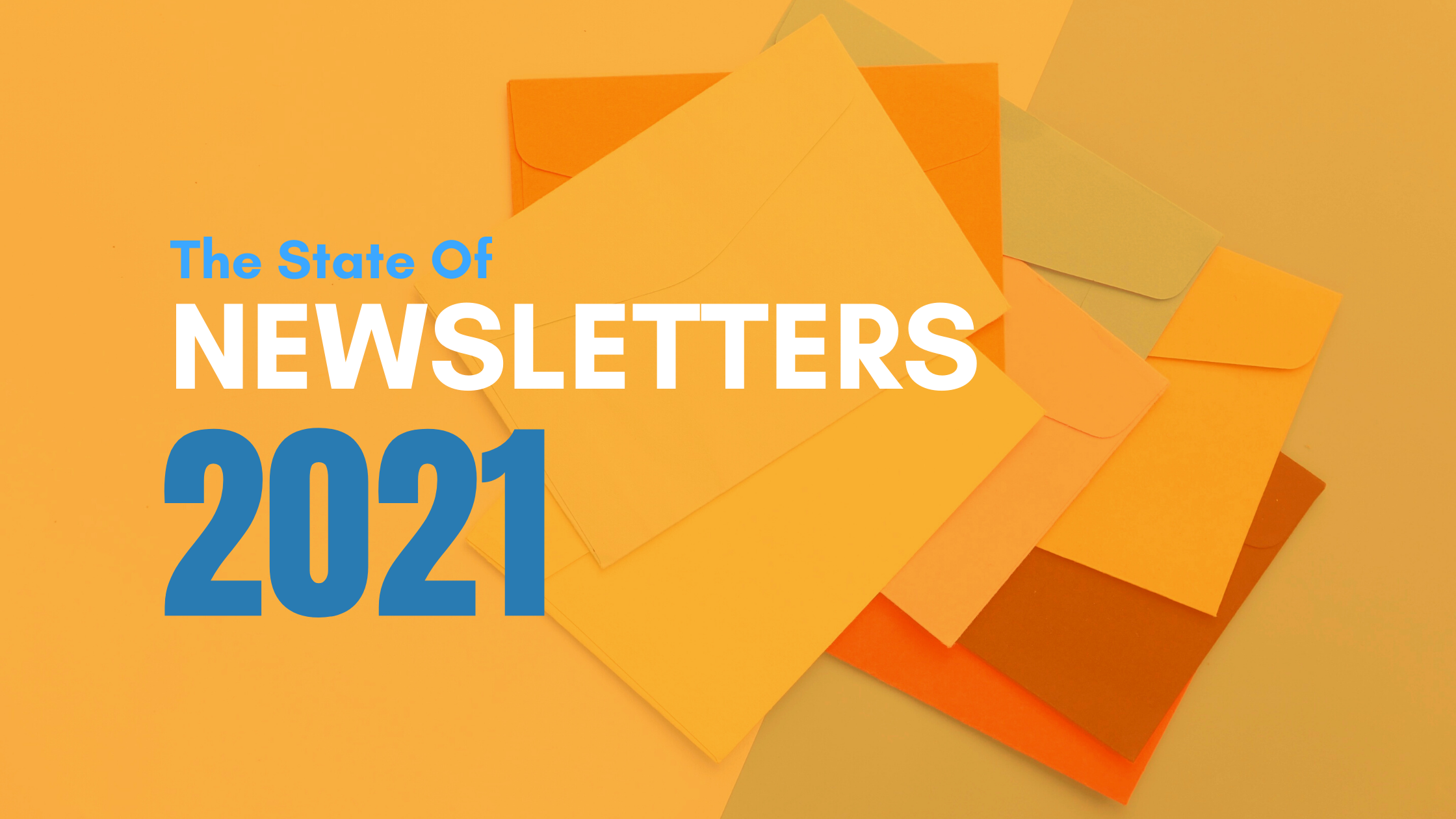 The State of Newsletters In 2021
State Of Newsletters
2021 hasn't been much better than 2020 for most of us, but it's been another great year for email newsletters. While independent writers continued to launch new newsletters, we've also seen many large media companies make email newsletters a huge part of their strategy.
Last year I wrote the first edition of the State of Newsletters, now this year I can look back at how things have changed since and new trends that sprung up in 2020.
This year there were over 600 submissions, up significantly from last year's 400. The charts below use user-submitted and manually gathered data from these submissions. Let's get to the data.
Email Service Providers
First up is the email service providers used by this year's submissions.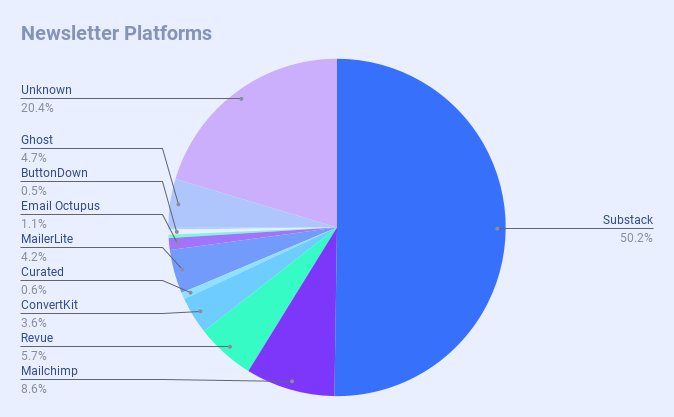 Substack made up half of all submissions this year, with Mailchimp and Revue in 2nd and 3rd respectively. Mailchimp likely makes up a signficant chunk of the unknown category since many integrations mask which ESP is being used. But even then Substack is still significantly ahead.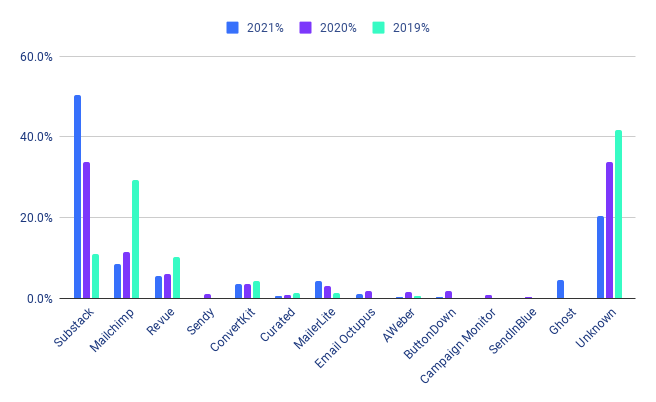 This chart looks at the percentage of submissions each ESP comprised in previous years. Substack's growth is clear to see in the past 2 years. Ghost rose to the #4 most popular ESP this year after not appearing in previous years. MailerLite has also doubled its share from 2019 to now.
It's clear that Substack continues to be the most popular brand in the space and a popular starting point for new writers. Other ESPs haven't been able to catch up though that could change with some of the negative press about Substack and Twitter's acquisition of Revue. Also keep an eye on Facebook's attempt to get into space, they lack originality but they have eyeballs.
How Long Did They Survive?
As the newsletter boom has continued, there are a lot of creators and writers launching newsletters but not sticking around for very long. Here I considered newsletters that haven't published a new issue in the past 2 months as inactive.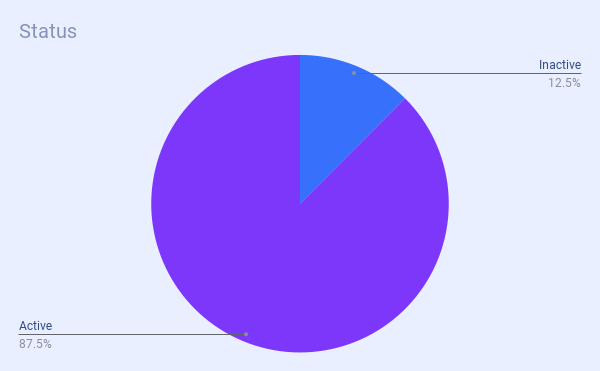 This year only 12.5% of submissions became inactive in the same year they were submitted. Last year it was 35.7% which could signal creators have learnt how long building a successful newsletter can take.
Sending Rates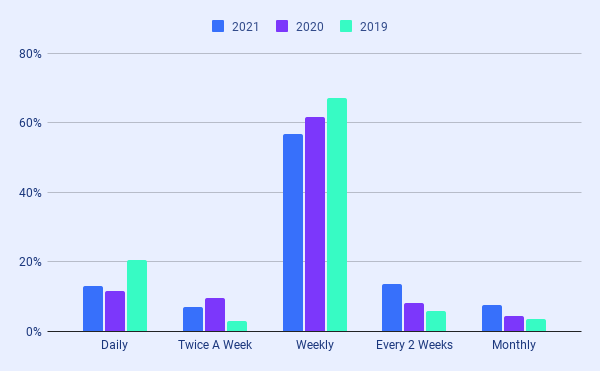 Interestingly newsletter sending rates have continued to become more diverse this year. The less popular sending rates (twice a week, every 2 weeks, and monthly) all grew noticeably this year. While weekly sending dropped.
Creators are getting comfortable finding the sending rates that work best for their audience and experimenting more beyond the traditionally popular daily and weekly sending.
Monetization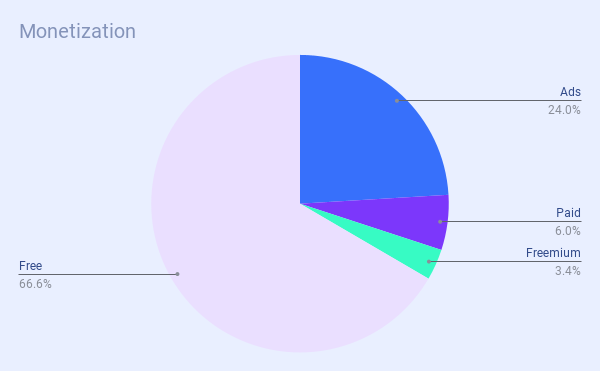 The most popular monetization model of newsletters continues to be advertising. Many creators haven't monetized yet but this could be due to the age of their newsletters as we're looking at submissions in 2021.
Paid and freemium business models have been on the rise though.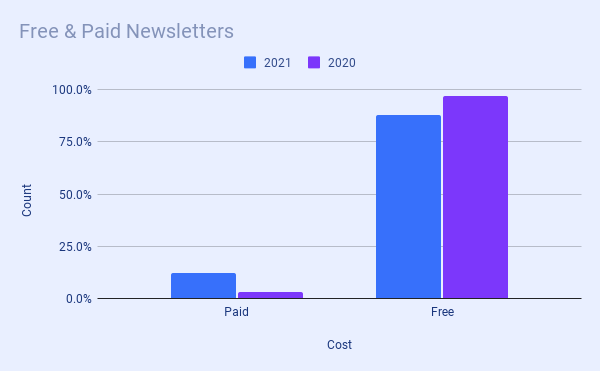 The number of paid/freemium newsletters submitted grew from just 3.1% last year to 12.3% this year. A significant increase that shows just how viable it is. And it's also been made a lot easier with many ESPs offering built-in options to set it up.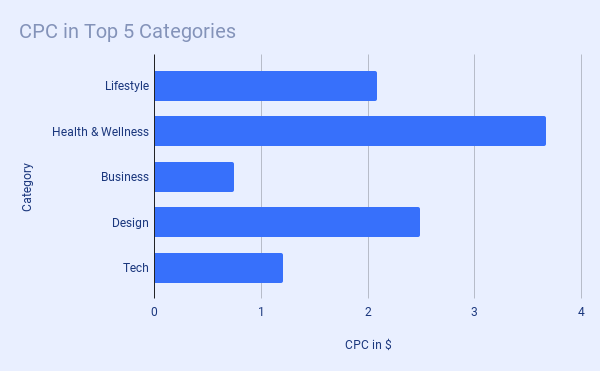 Looking at advertising in more detail and you can see the cost per click in the most popular newsletter categories above on advertising platform Paved. Business and tech are particular attractive rates for advertisers.
Popular Topics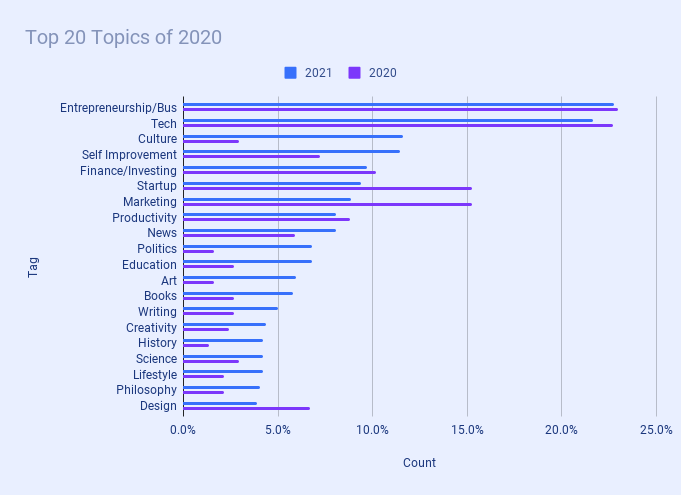 Entrepreneurship and tech newsletters continued to be the most popular categories. But in the lower end of the top 20, a lot of topics grew hugely in popularity in 2021. Politics, art, books, writing, history, creativity, lifestyle, and philosophy all more than doubled their share of submissions.
Last year I noted that these categories were very popular with people searching for newsletters but there weren't many submissions catered to those topics. This year submissions and traffic more closely align.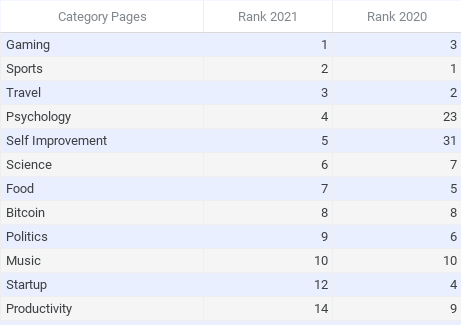 The most popular categories this year divsersifies as well with some like psychology and self improvement making huge leaps into the top 10.
What's Next?
There's no indication that the newsletter trend is slowing down just yet. Instead, I expect to see further diversication in the topics newsletters cover and the audience they target. The most popular categories are likely near saturation especially with the number of large publishers entering the space. But in more niche categories there's a ton of room for more newsletters.
As for technologies, no one slowed Substack's growth this year. Twitter's acquisition of Revue might accelerate its growth but that's yet to be seen. I do think there's a good opportunity for existing platforms to copy what makes Substack's so popular while having functionality it lacks. And as creators' grow their brands on Substack they'll be more open to platforms that take smaller cuts or fixed fees that let them keep more of their revenue.
If you're thinking about getting into the space, it's definitely not too late. 2022 should be even better.