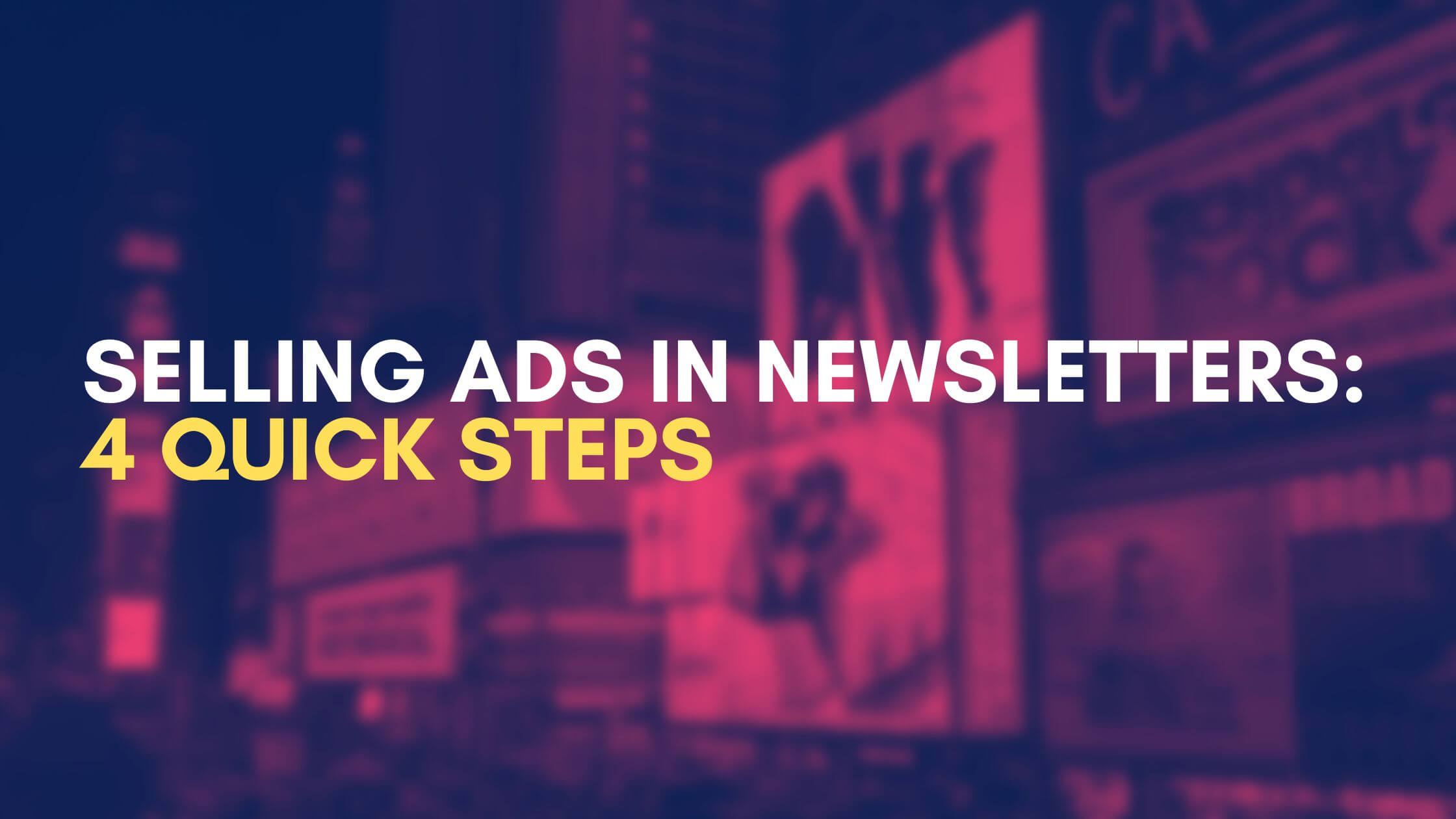 Selling Ads in Newsletters: 4 Quick Steps
Sponsorship
Advertising
If you've ever created an email newsletter before, you know what it's like. Newsletters are hard work, and unfortunately, a lot of creators don't always get compensated for their efforts.
That's exactly why we built Paved—the world's largest newsletter sponsorship marketplace. Paved helps publishers secure premium sponsorships that their subscribers love, with name-brand advertisers like Warby Parker, Square, and more.
Advertising in newsletters is a fantastic way to monetize your content while providing valuable offers to your subscribers.
Here are 4 things you should do to start selling ad space in your newsletter.
1. Learn lessons from other publishers
Not only can you make money from the audience you've worked so hard to build, but you can provide them with valuable offers from advertisers in your niche, all without having to worry about creating even more content yourself.
Before you jump into this new endeavor, take time to learn from the pros. We recommend checking out Emily Wong's series from the Paved blog, where popular newsletter creators shared their best advice on winning sponsorships and building revenue streams.
2. Determine the right ad rates.
As you start your email monetization journey, decide how much you want to charge for ad space. Consider factors like audience size, demographics, and the type of ads you want to offer. For example, dedicated emails tend to garner higher rates than smaller sponsored emails. Also consider offering different ad packages and durations, like a sponsorship in every issue for a month.
If your newsletter's open and click rates are above average, you can charge a little more for your ads. If they're below average, you should set your rates a bit lower so you can stay competitive.
To begin, it's recommended to price your ads slightly lower than your ideal price point. The first few campaigns you participate in will help you establish a relationship with advertisers and will help to show how effective your campaigns are. Later, once you have the metrics to support a higher rate, it'll be easy to make the case.
Read: How to Set Your Newsletter Advertising Rates (Without Selling Yourself Short)
3. Create a publisher profile and media kit
When you start to start advertising on your email newsletter, the first thing advertisers are going to ask for is your media kit. This should include information about your newsletter, audience demographics, previous sponsors, ad placement options, and your ad rates.
Every good media kit starts with a description of your newsletter. Talk about the topics you cover, when you got started, and some of your most popular topics or editions. Which articles get clicked? What are the defining interests of your audience? These are the kind of basics that are perfect for introducing your audience to an advertiser who may not have heard of you before.
Then, you'll want to dig into all the email metrics that matter to advertisers, including list size, open rates, and click rates. Even if your list is on the small side, high open and click rates can help you demonstrate the quality of your audience.
Engagement metrics aren't the only numbers that matter to advertisers, though. If you know any demographic information, through surveys or an analysis of your list, be sure to share it with advertisers.
Read: How To Build a Paved Profile To Attract More Sponsors and How to Create a Media Kit The Easy Way
4. Connect with sponsors and advertisers on Paved
Start by making it clear on your website that you're open to advertisers by adding a "work with me" or "advertising opportunities" page. You can add your media kit and either a link to your Paved profile or your email address to this page.
As you work with more advertisers, this page can also include examples of those campaigns and logos of brands you've worked with.
Advertisers won't always come to your site, though, so you might also want to try reaching out to them. A good place to start is brands you've already mentioned on your site or in your email newsletter. If you frequently mention your favorite products, reach out to those companies first.
You can find a PR contact or at least a contact form on brand websites. Ask if they collaborate with publishers and share your media kit via email. While this process can be tedious, it can be an effective method to find advertisers to work with. If you want advertisers to come to you, though, try creating a Paved profile. Once you sign up, you'll be able to showcase information about your newsletter list to interested brands.
Read: The Guide To Increasing Your Newsletter Revenue: What Advertisers Want
Conclusion
With these 4 steps, you can take your email list from an engaged community to a real money-maker. Take control of your life and your job by monetizing your email newsletter with advertising.
Want to make it even easier to monetize your email list and get paid faster? Sign up for Paved today.