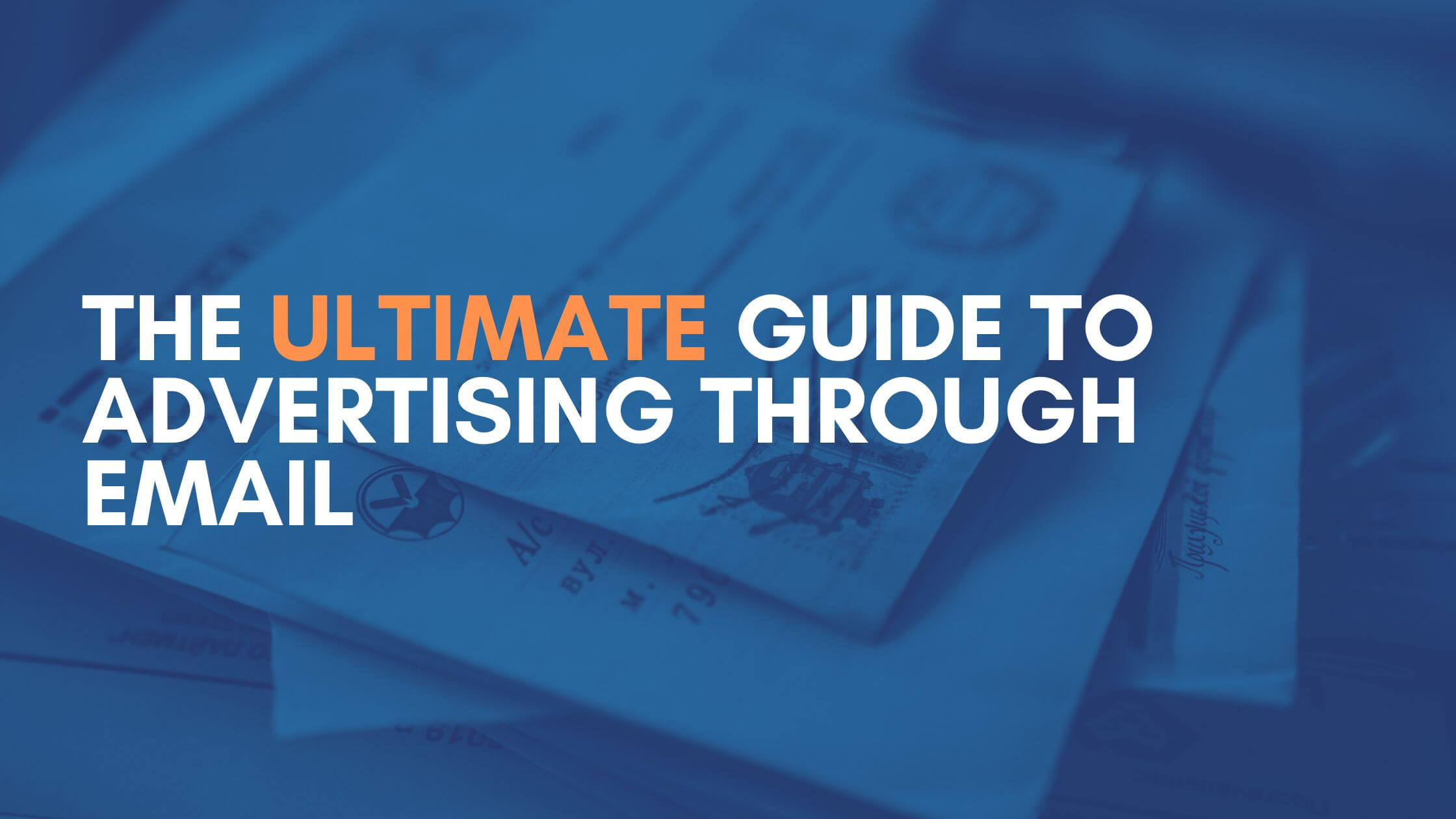 The Ultimate Guide to Advertising Through Email
By
Paved
•
December 13, 2022
sponsorship
advertising
guides
In the world of digital marketing, email is one of the most important channels for reaching customers. There are two primary ways to leverage email for business: email marketing and newsletter advertising.
Email marketing is the practice of building your email list to send out brand communications. In contrast, newsletter advertising involves sponsoring other publications to advertise to their subscriber bases. Each channel presents unique strengths for your marketing strategy.
In this post, we'll cover email marketing and newsletter advertising, and how they can help you meet your goals.
What's email marketing?
Email marketing is the practice of sending out brand-related announcements and promotional emails to a subscriber base who has signed up to receive your marketing messages. According to Litmus, email marketing has a return on investment (ROI) of $36 for every $1 spent. That's a higher return than any other form of marketing.
Many companies use email marketing for:
Educating new or prospective customers about products and services
Announcing promotions, events, or releases
Keeping customers engaged between purchases
Conducting research with feedback and surveys
Marketing automation (like abandoned cart emails and welcome series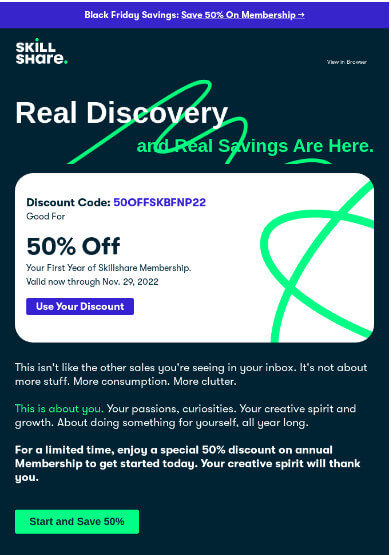 It's no secret why many industry experts recommend building out an email marketing strategy before advertising on any other platform. Email marketing is a low-cost solution that allows companies to personalize their messages, build brand awareness, and connect with customers at every stage of the buyer journey.
However, email marketing can also be a big investment for some brands. While it may not involve much ad spend, you'll still need to dedicate time and resources to launching your plan, from choosing an ESP to growing your email list. Most companies find that it's worthwhile, but it's important to consider the time and resources needed for setup.
What is newsletter advertising?
Newsletter advertising is a paid marketing strategy that involves partnering with an email newsletter to deliver your message to an existing subscriber list. It takes a long time to build a list of people who are interested in your content, so newsletter sponsorship helps marketers solve this problem.
In contrast to email marketing, newsletter advertising provides access to new leads while borrowing credibility from a trusted publication. The sponsorship model runs a lot like print magazine advertising: marketers run advertorials in newsletters that appeal to their target audience. For example, you might run an ad for your consumer electronics brand in the AppleInsider or Techlicious newsletters.
There are 3 main types of newsletter advertising:
Sponsored emails
Dedicated emails
Programmatic email ads
Sponsored email
A sponsored email is a type of advertisement that runs inside an email newsletter, alongside its regular content. Depending on the publisher, a sponsored email may appear in a variety of formats.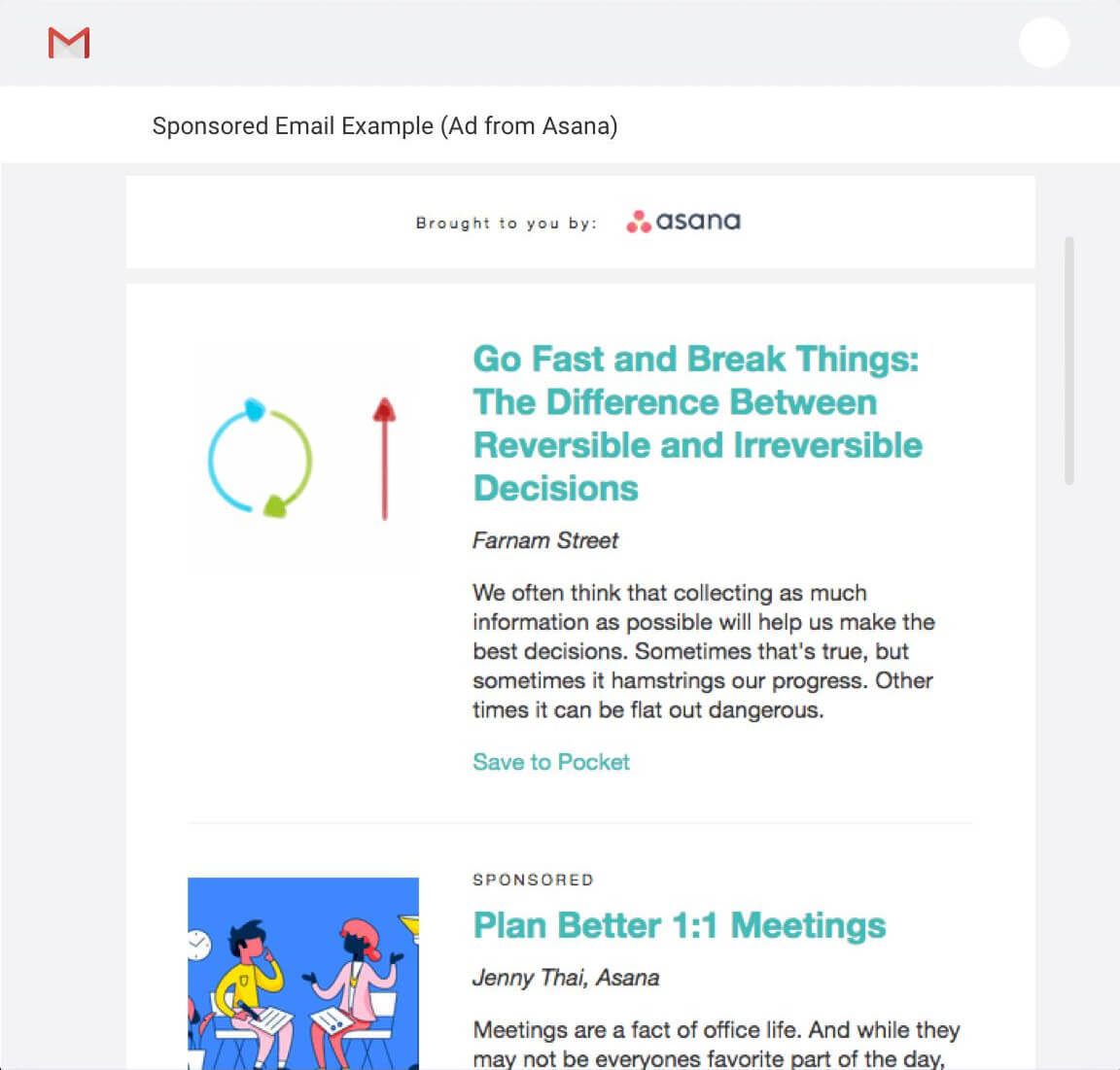 Dedicated email
A dedicated email is a full newsletter edition that focuses solely on the sponsor. Dedicated emails are helpful for promoting conversions, announcements, and events. Because they earn higher engagement, sponsored emails are often a more costly option.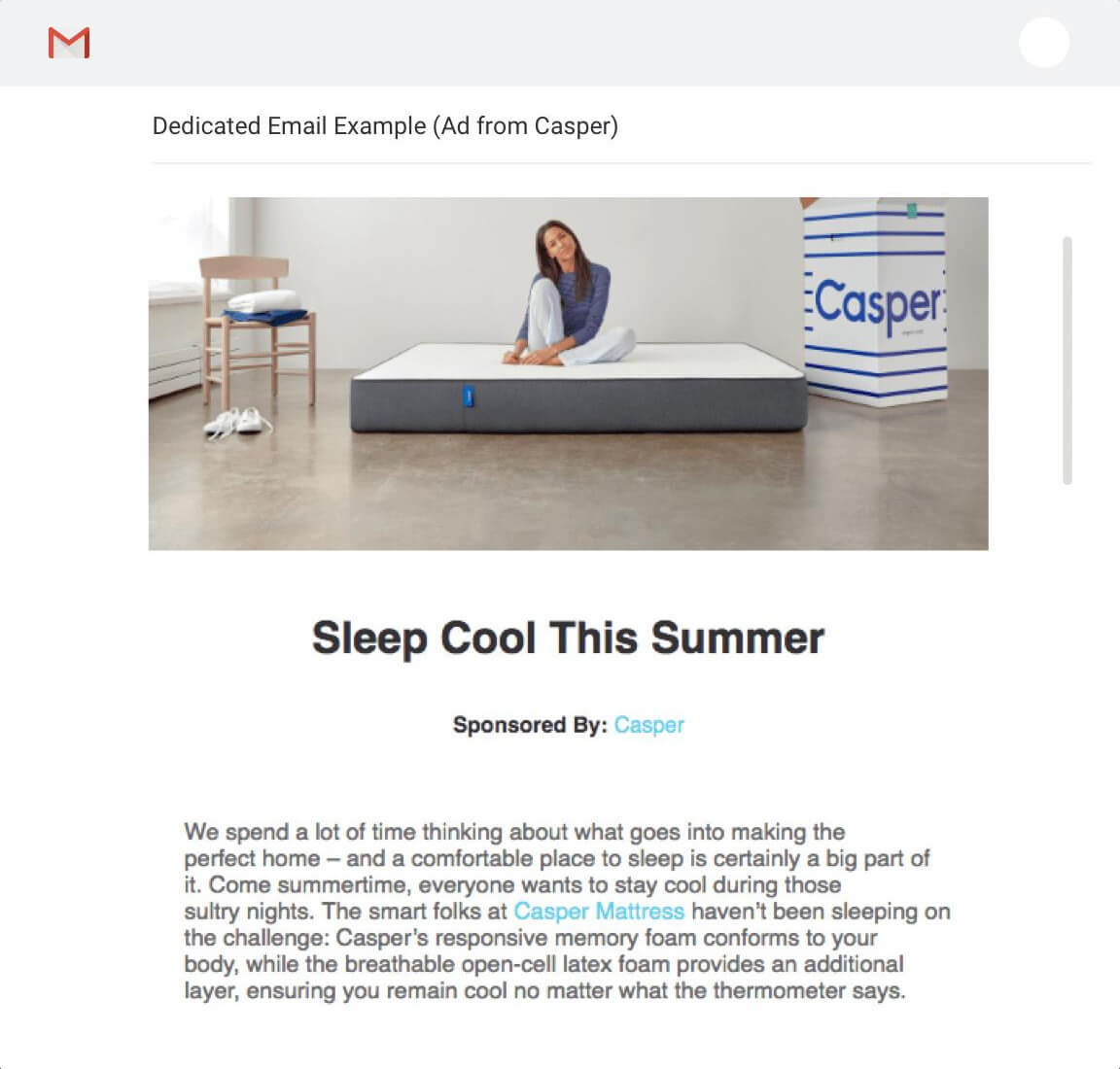 Programmatic ads for email
This digital marketing channel, like any form of programmatic advertising, allows businesses to leverage granular targeting through automated ads. With programmatic ads, marketers can launch targeted, scalable campaigns without coordinating directly with publishers. Similar to social media ads, you can launch your campaign in three steps—defining your audience, uploading creative, and setting your budget. Based on your specifications, your ad will get delivered to targeted readers across a range of email newsletters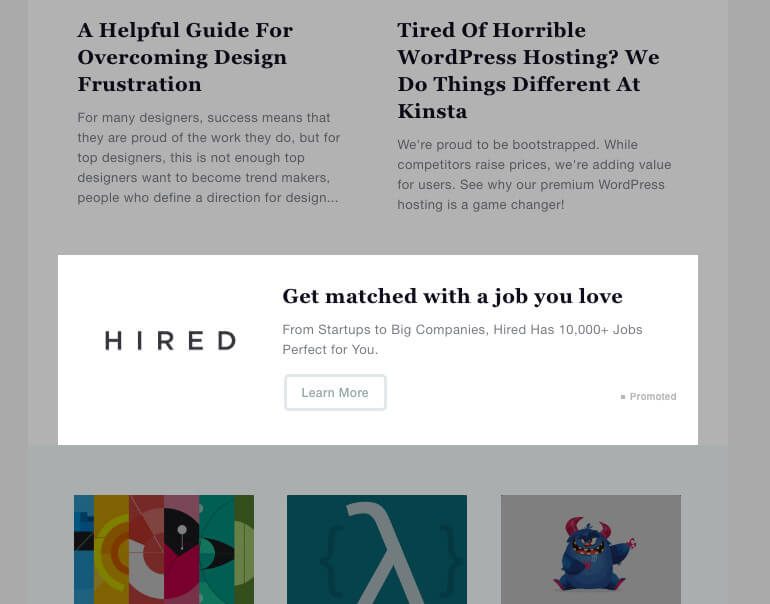 To learn more about how to run programmatic ads, check out: Paved's Ad Network Case Study
What's the best way to advertise through email?
By leveraging a platform with over 4 billion users worldwide, email marketing and newsletter advertising both allow significant advantages, including:
Bypassing ad blockers
Reaching audiences directly
Sending timely campaigns
Connecting more authentically with audiences
However, email marketing and newsletter advertising each play a different role in business marketing plans.
Email marketing is best for initiatives, including:
Delivering personalized communications
Continuously providing value to your audience
Connecting with existing leads and customers
Building a channel where you own your contact list
Newsletter advertising is best for:
Tapping into an established community to build brand awareness
Building credibility by partnering with high-quality publications
Reaching lookalike audiences outside of your existing leads
Increasing share of voice in the email inbox without having to build your own subscriber list
Incorporate email into your marketing strategy
So, which is better: email marketing or newsletter advertising?
Here's the good news: you don't have to pick. In fact, running your email marketing strategy can give you the experience and skills for launching a newsletter campaign, and vice versa.
Email isn't going anywhere. Becoming an expert in each format of email advertising can only help you in your future marketing efforts. With Paved, you can launch, track, and scale your newsletter advertising in minutes. Sign up as an advertiser for access to the Paved Marketplace, the Ad Network, and more.