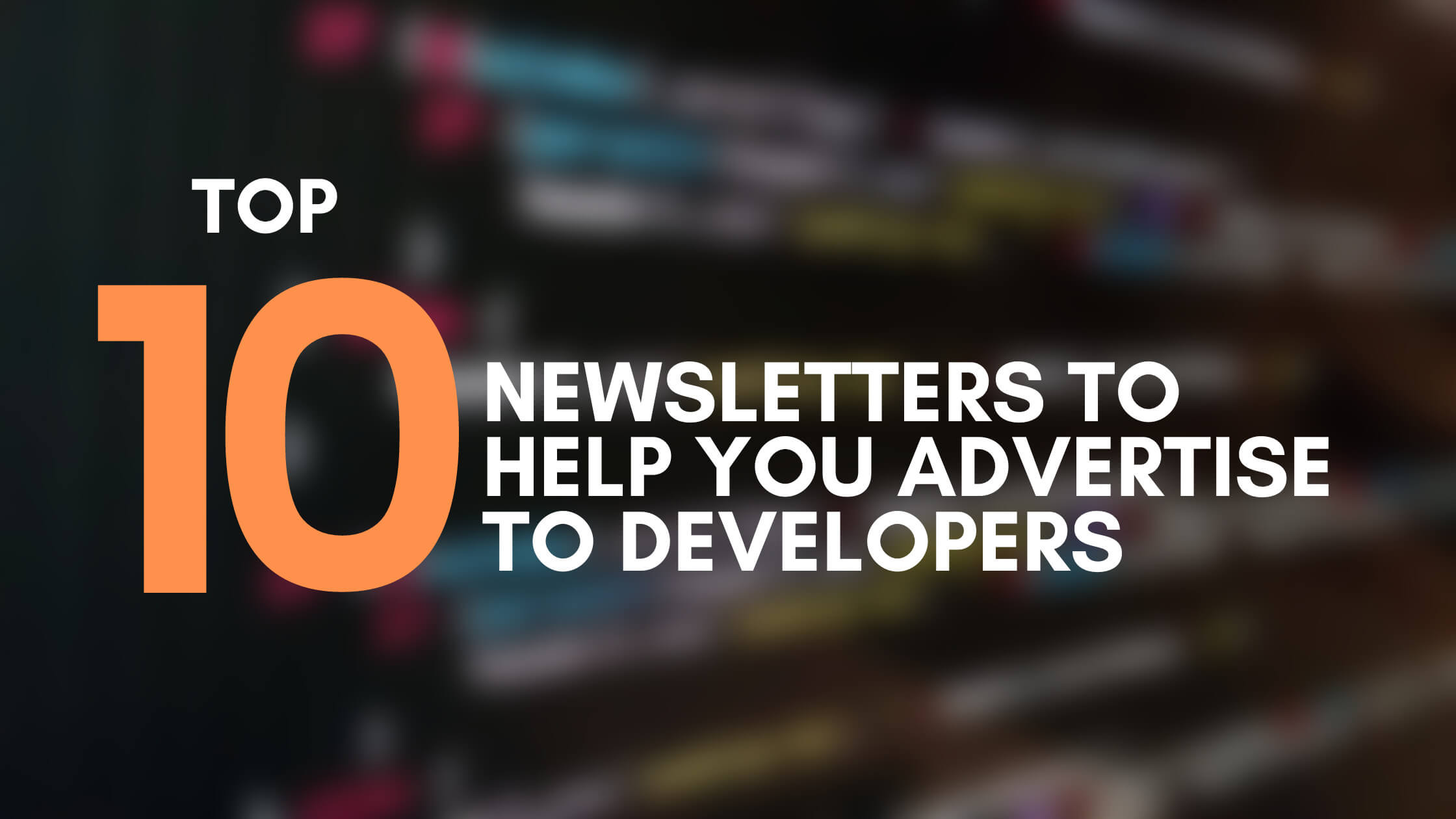 10 Newsletters to Help You Advertise to Developers
By
Paved
•
December 3, 2022
sponsorship
advertising
Some people say that developers hate advertising. To an extent, it's true. Developers are a savvy group, and they don't typically resonate with traditional marketing ploys or sales pitches.
Instead, most devs prefer informative, no-fluff content that actually provides value to them.
"You have to make sure that the developer marketing materials you're putting out into the world are actually helpful. Engineers are naturally curious people who will be far more interested in content that teaches them something rather than just trying to get them to buy." - Programmer and marketer Ashley Smith
One great way to engage developer audiences is email sponsorship. Sponsored emails are paid ads that are natively integrated into a surrounding newsletter. Typically, the most successful advertisers deliver relevant content to developers—from white papers to case studies—to boost brand awareness and reach their target audience.
In this post, we've curated 10 developer-focused newsletters that can help your marketing team connect with this important niche.
Advertise to developers with these 10 newsletters
As you experiment with newsletter sponsorships as a new marketing channel for the developer community, consider advertising in one of these high-quality publications:
1. Bootstrapious
100,000+ subscribers
Bootstrap is the most popular HTML and CSS framework for developing responsive websites. Bootstrapious.com is a website dedicated to web designers and web developers who are interested in the Bootstrap framework. This popular newsletter delivers free themes, templates, and tutorials to hundreds of thousands of readers.
The audience:
Web designers and web developers from across the globe
25-34 (44%), 18-24 (26%), 35-44 (15%)
Location: USA (38.2%), United Kingdom (10.9%), India (7.0%)
🧑‍💻 Advertise in the Bootstrapious Newsletter
2. DevOps Bulletin
100,000+ subscribers
DevOps Bulletin is a professionally curated digest of DevOps tutorials, books, podcasts, open-source projects, and job postings. The bulletin is trusted by developers at leading companies like MongoDB, Stripe, Retool, Vimeo, CloudBees, Buffer, and more.
The audience:
Highly technical audience
Primarily DevOps engineers, SRE and other tech workers (Developers, C-Level)
40% United States, 10% United Kingdom, 10% Canada, 20% other EU, 20% other non-EU
🧑‍💻 Advertise in DevOps Bulletin
3. Web Code Geeks
Thousands of subscribers
Web Code Geeks is an independent online community and resource center for developers. The Web Code Geeks newsletter is targeted at the technical architect, technical team lead (senior developer), project manager, and junior developers alike. The newsletter provides expertly written daily news, articles, tutorials, and open-source projects.
The audience:
Avid Web developers who are looking to learn
Interests, CSS, JS, Python, and other related technologies that can stand up to modern development needs and still perform well, boost productivity, and also look nice
Lots of bloggers and freelancers in the audience
🧑‍💻Advertise in Web Code Geeks
4. Programming Digest
Thousands of subscribers
Programming Digest is a highly targeted weekly newsletter for software programmers, freelancers, consultants, IT professionals, and entrepreneurs that keeps them up to date on the latest news from the niche technology segment. Its no-frills updates appeal to thousands of readers who are eager to learn about coding, CI/CD, agile, API resources, and more.
The audience:
Demographics include programmers, developers, technical team leaders, and CTOs
People who are eager to optimize skills and stay up to date in the technology sector
The top 1% of developers
🧑‍💻 Advertise in Programming Digest
5. ES.next News
Thousands of subscribers
ES.next News reaches thousands of developers who are interested in JavaScript and the cross-platform developer tools around it. The newsletter focuses on inspirational and educational content that highlights new tools, services, and technologies.
The audience:
Highly specialized readers
Primarily software developers
6. Web Tools Weekly
Thousands of subscribers
Web Tools Weekly is a newsletter targeting developers, with a special focus on tools for front-end web developers, full-stack developers, designers, and other professionals. Each issue features a brief tip or tutorial and 3 categories of tools. Common topics include CSS, JavaScript Utilities, JavaScript Libraries, React Tools, Library Tools (Angular, Vue, etc.), Front-end Frameworks, Jamstack, JSON/Databases, SVG, and more.
The audience:
Front-end web developers, full-stack developers, graphic designers, software developers, programmers, startup employees, and other tech professionals
Predominately male readership living in the USA, Germany, Great Britain, Canada, India, and China
🧑‍💻 Advertise in Web Tools Weekly
7. Frontend Weekly
Thousands of subscribers
Once a week, Frontend Weekly handpicks the best 8 articles related to front-end software development. The newsletter covers web, mobile, and everything in between.
The audience:
Primarily software developers
Has interests in web and mobile and technologies such as React, Angular, JavaScript, Node, Vue, and similar technologies
🧑‍💻 Advertise in Frontend Weekly
8. Tech Lead Digest
Thousands of subscribers
Tech Lead Digest is a carefully curated weekly newsletter for CTOs, engineering managers and technical leaders to help them stay up to date with technology. Fresh news, articles, and tutorials help engineers learn from the best and keep their skills sharp.
The audience:
Technical leaders, team leaders, SaaS architects, engineering managers, and CTOs
They are the leaders, influencers, and decision-makers in their organizations
🧑‍💻 Advertise in Tech Lead Digest
9. A Byte of Coding
Thousands of subscribers
A Byte of Coding is a daily newsletter for polyglot software engineers. It goes out Monday through Thursday, and it features 3 recent, technical, long-form case studies on anything related to software engineering.
The audience:
A Byte of Coding's audience is primarily made up of tech decision-makers and experienced programmers with > 5 professional years in the field
Includes a number of C-level executives, directors, technical team leads, and senior engineers
Readers of the newsletter are spread throughout the world, but the majority are located in the US and Europe
🧑‍💻 Advertise in a Byte of Coding
10. Bizarro Devs
1,000+ subscribers
Bizarro Devs is a curated newsletter for anyone looking for a quick tour of the weird and wonderful internet. This weekly newsletter emphasizes technology and the internet, with regular features on design, development, science, AI, and machine learning.
The audience:
65% of the audience is located in English-speaking countries from Europe to Australia
35% is located in the United States of America
Advertise to Developers with Newsletter Sponsorship
The readers of development newsletters are tech-savvy decision-makers with significant disposable income. They're working professionals who hold senior positions in big companies.
Whether you're a B2B, DTC, or B2C business, this type of audience has a high intent to purchase products that make their professional lives better. And that translates into great conversion rates for you.
Running a newsletter sponsorship is one of the best ways to build brand awareness with developers and generate new leads for your business. With Paved, you can launch, track, and scale your campaigns in minutes.
Sign up as an advertiser for access to the Paved Marketplace, the Ad Network, and more.